2017 Nissan Rogue
2017 Nissan Rogue v. 2017 Honda CR-V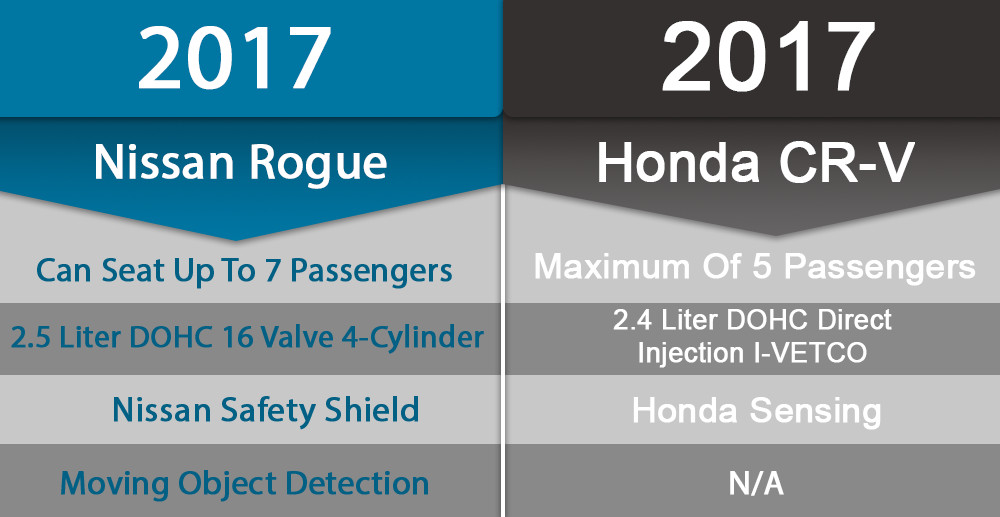 The crossover SUV is the perfect family vehicle, with the seating capacity of a huge SUV but with the fuel economy and performance of a sedan. There is no better combination for you and your family. The 2017 Honda CR-V and the 2017 Nissan Rogue are two of the most popular crossover vehicles on the entire market. Grab the vehicle that has space for your entire family but still handles like a car. Here at Preston Nissan, our goal is always to help you through every step of the car-buying experience. This is why we are here to help you find the perfect crossover SUV for your whole family. Is it the 2017 Honda CR-V or is it the 2017 Nissan Rogue? Find out which crossover fits your needs better.

When it comes to fitting your whole family in your crossover, it seems that the Rogue has a slight advantage. The 2017 Honda CR-V maxes out at five passengers, while the Rogue, when equipped with the family package, can sit up to seven passengers. So if you're worried about having room for your entire family, make your way to Preston Nissan for that new 2017 Nissan Rogue. If you looking for the larger engine, then the Nissan Rogue has you covered for that as well. The Rogue boasts a 2.5-liter DOHC 16-valve 4-cylinder while the CR-V only has a 2.4-liter DOHC direct injection I-VTECO.
Safety is also a huge issue when shopping for a new car. The 2017 Honda CR-V comes available with Honda Sensing, a reconfigured safety suite that includes Collision Mitigation Braking with Forward Collision Warning, Road Departure Mitigation, Adaptive Cruise Control, and Lane Keeping Assist. The 2017 Nissan Rogue provides Nissan Safety Shield driver-assist technology, which features Forward Emergency Braking with Pedestrian Detection, Moving Object Detection, Blind Spot Warning, Lane Departure Warning, and High Beam Assist Headlights. Both have a variety of safety features, but only the Rogue has Moving Object Detection to keep you aware of what is around you.